Had we crossed out of bounds? From the look of the slope below us, it seemed like we'd entered a glorious powder run reachable only by helicopter. But we weren't heli-skiing. We were peering over the lip of KT-22 a black diamond run at Squaw Valley loaded with a foot and a half of fresh snow.
With no way out but down, I followed my friends into the fluff. Desperately trying to keep my tips above the snowy surface, I leaned back further and further on the tails of my skis, hoping to control my speed. It didn't work and my thighs burned after only a few turns. Unlike the stars of the ski flicks, whose skis float parallel as they spray huge plumes of white fluff, my skis forged paths of their own minus the spraying fluff. At least my speed and anxiety level were parallel both increasing rapidly. After only a few turns, I cartwheeled uncontrollably down the run, feeling like a beginner all over again.
That was three years ago. Now I know how to ski powder thanks to a few lessons and practice. But my experience wasn't uncommon. When it comes to skiing powder or moguls or steps, many of us balk at the initial challenge and revert to old habits and fears. The confidence we once had while cruising blue runs suddenly disappears when we approach black diamonds.
To find out how to make the transition from blue to black, we called upon experts in each of these techniques. With their simple tips and a touch of tenacity, you'll find that black diamonds can be a girl's best friend.
Extreme skier Kim Reichhelm, 32, first gained international recognition for her steep-skiing ability in Greg Stump's License to Thrill. Hop turns in 45-degree couloirs on film were all in a day's work, as was ski racing for the U.S. Ski Team. Now in her "retirement," Kim has decided to share her knowledge about skiing with other women through her Women's Ski Adventures.
"Skiing blacks once you've mastered the blues is a totally realistic goal. But too often, people get intimidated when they first peer down something a little steeper than they're used to, and they sit back and don't move their weight over the downhill ski. You first need to go through the proper terrain progression before you jump into a black run."
Kim's tips for conquering the STEEPS:
1. Find the easiest black run on the mountain (ask a patrolperson or instructor). You'll just be skiing little sections of it at a time, then stopping. At the top of the run, find your center of balance by flexing your knees, feeling the front of your boots and placing your hands in front of your body. Then traverse slowly onto the steep terrain and stop.
2. A few tips for standing on a steep slope: Get your weight over your downhill ski, push your ankle into the snow and flex your knees, balancing over the center of the downhill ski. Then release the pressure off your skis, slide downhill slightly and stop again. By doing this, you'll build necessary confidence and create muscle memory for control of speed and edge on the steps essential on hardpack.
3. For your first turn, reach downhill with your pole plant, stand tall and move your weight down the hill as you steer your skis into the turn. As soon as your skis go through the turn, exaggerate the movement through the fall line — almost heading back uphill — and shift your weight to the new downhill ski. Stop again. If that feels OK, you can link a few turns. If you feel out of control, you're pointing your skis too far downhill, instead of forcing them across the hill. DonHt tries to move too quickly into your next turn — edge with the downhill ski to slow yourself down first.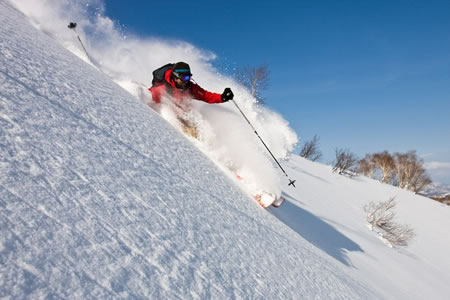 4. Often steps aren't groomed, so you have to deal with varying terrain. Here it's important to know the hop turn — something you can practice on blue runs. Plant your pole and hop, turning your skis in the air and landing with them across the fall line headed in the other direction. You can't do a hop turn without planting your pole firmly. Practicing this also gets you warmed up and tuned into where your balance and hands should go.
5. The key to steps is to always look downhill to your next turn and keep your hands in front, in your peripheral vision. This is important at any level, but especially on the steeps, to maintain balance. Lead with your hands — like a tennis player in an athletic stance with your boots against your shins and balance in front and strong.
As a two-time winner of the World Pro Mogul Tour, Patti Sherman, 30, captivates with her mogul technique, attitude and triple helicopters. But she's not selfish with her talents. Thanks to her Vail Freestyle Program, which she teaches with husband and Pro Mogul Tour Champion Scott Kauf, other skiers can learn bump tips first hand from the champs.
"For some reason, good skiers get into the bumps, then forget everything they know. Skiing moguls aren't any different than another terrain–you just need to be more aggressive."